Awhile back I was sent a copy of the Green Princess Cookbook to review.  Several other books on green living and sustainability have been in que first so I haven't paid much attention to the Green Princess Cookbook by Barbara Beery, that is until my wife T and I started searching for a green cake recipe for our daughter's (we'll call her Tater Tot)  first birthday.
Tater Tot was exclusively breast fed because booby is best!  Once Tater started on solid foods though, we've been feeding her Earth's Best organic baby foods.  We feed her little in the way of processed or unnatural foods and avoid most things that retain pesticides and other harsh chemicals used in factory farming growing practices.  Tater doesn't get much in the way of refined sugar either because both T and I have seen the outcomes of children who get way too much at an early age.
With that said, T and I have been trying to find recipes for a more natural first birthday cake.  We don't necessarily want to go entirely vegan on this because little Tater Tot hasn't made the decision to go that direction yet.  Tater's Mommy and Daddy love their meat very much but we'll support her if she eventually decides meat products aren't for her.  Since we've been on the hunt, T pulled the Green Princess Cookbook from my book review stack and we began pawing through it.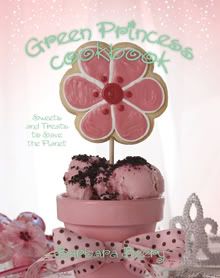 Based on the title, you'd think there would be a lot of natural or in some way environmentally friendly recipes in this cookbook.  I wish I could say that was the case but instead, we found ourselves looking at a cookbook that had merely a sprinkling of the "green" idea laid out in its recipes.
The forward does recommend you try to use organic or locally grown ingredients whenever possible but this is a suggestion that virtually any cookbook author could slap in front of their recipe collection too.  The book is geared toward children and Beery did a good job including easy to make items like Organic Orchard Salsa and Solar-Power Strawberry Lemonade (which actually does have to warm up in the sun as part of the recipe).  They're novel ideas and take a good step in teaching younger kids about organic foods and greener living practices.
You might be disappointed though when you come across recipes like No-Bake Brownie Cupcakes.  The idea is to use less resources by not using your oven to bake them but unfortunately the recipe calls for a package of brownie mix as its base.  We all know that's not only resource intensive but surely there is a way to make your own no-bake brownie mix instead of trying to rely on another box of processed food.  The recipe for Off-the-Vine Zany Zucchini Muffins goes the same route, using a box of spice cake mix for its base.
I have to give Beery some credit for trying to spread the teachings of greener living to her childhood cooks.  There's a greener living tip on each page and some recipes leaning toward learning about how to be sustainable like making your own butter.  Parents could expand discussions on each topic while helping their budding chef whip up their recipe and maybe teach them even more about living life a little greener.
I'm giving away a copy of the Green Princess Cookbook so if you're interested in entering, here's how you do it:
1)  First leave a comment on this post
2)  Secondly, send me an email to easygreen@greenpreferred.com with a favorite organic or green recipe you like to make with your kids or for them and a short story explaining why it's your favorite.
3)  Finally, follow me on Twitter and re-tweet the following message:
"I just entered the Green Princess Cookbook for kids giveaway put on by @GreenPreferred.  Learn how to enter and win http://bit.ly/c1Phcu"
The contest will close on Friday, May 7th, 2010 and the person with the most creative recipe and story will win the cookbook for their budding chef.  Keep checking back for a free recipe or two while the contest is running. Good luck!
Popularity: 4% [?]